Discussion Starter
·
#1
·
Anybody ever have something like this happen?
Daughter borrows my 02 GMC Envoy (which has been a GREAT car - until tonight). She calls about an hour later freaking out (mainly because she averages about $10 of damage per mile when she drives, and she knows it. Black cloud follows that kid around). She says she couldn't get the headlights to shut off and then when she tried to start it, it wouldn't turn over. I'm thinking: Well, it's automatic everything with the lights. Maybe a sensor is bad or something and it killed the battery. But then she says she thinks something is burning under the hood (which is why she's freaking out). She's at a friend's house and he gets on the phone and says he thinks everything is shorting out under the hood (smoke, etc). I ask him if he has a wrench, which he does, and I ask him to jerk the battery cable, which he does. I hop in the other car and get over there. I can smell the ozone stench from 100 feet away.
The underhood fuse/relay/junction box cover is a melted morasse of plastic. I had to work it pretty good just to pry it loose. Under that, this is what I find: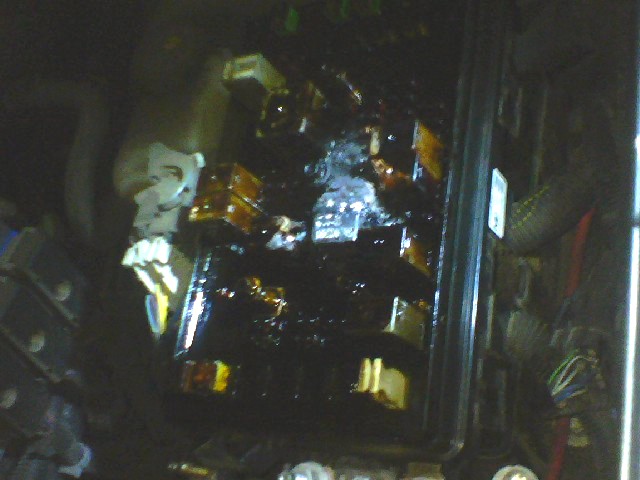 (took it with the cell camera, so it's not great)
It's a f'ing mess. There's ballast fluid (I guess that's what it is. It like the foul smelling crap in a fluorescent ballast.) all over everything (the brown syrup in the photo). And there are the remains of a couple of relays at "ground zero", pretty much right in the center of the block (the silver blob in the middle of the pic). That's the bad news.
The good *might* be that I checked all the wiring harnesses going in and out of the block and there doesn't seem to be any damage, melted insulation in the harness, etc and they all seem to snap connect into the main block. So I'm hoping that if we replace the block itself and the assorted relays and fuses and bolt it back in we may be ok.
Any ideas? What caused this and why didn't a fuse/breaker/fusible link kill the juice? (It's still pulling serious amps because I accidentally bumped the loose cable back to the terminal while I was fishing around and it stuck). I couldn't find any references to a similar experience out here on the web. I suspect it was the headlight relay at fault, since she said the headlights would not shut off. Anyone know how much that fuse block runs?
Thanks in advance