2005 chevy trailblazer_ls
Discussion Starter
•
#1
•
I have had my TB lifted with 33" tires for a year now and my suspension is sitting very low compared to how it was in the past. Keep in mind I have the Kennesaw bumper installed too. I even replaced my shocks with bilsteins and it feels like it sat even lower after the install! Well I drive off road a lot and I think I have worn out my suspension somehow.
Ok, well a few weeks ago I was told that the stock coilover rubber bushings - number 18 in the diagram were bound to wear out. And I think they did. Either that or something else even worse happened.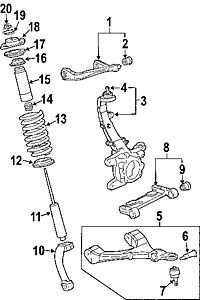 should I replace them, or should I just get the BDS front end lift and toss the spacers? Any suggestions. I want my suspension up front to go back up. My tires rub and I have cut the plastic in the wheel well as far as I can go, Now im getting tire rub on the metal of my TB's body!
HELP ME DECIDE WHAT TO DO! Some of you guys know these vehicles alot better than me and I appreciate your help.