2002 chevy trailblazer_ls
I changed my plugs a short while ago due to a very bad misfire on cylinder #6. the new AC Delco plugs fixed the rough idle and misfire....for about 3 weeks. I was sitting in a drive-thru when the miss returned. now after another 3 weeks today it finally set a CE light, I pulled the code when I got home and once again it says 2 codes. p0306 and p0306pending. I removed the coil and plug, and noticed a small amount of oil on the spark plug and rubber boot. the dielectric grease on the plug and boot has turned yellow and I noticed some rust on the terminal inside the boot on the coil. I cleaned it off with some 800 grit sand paper and then cleaned the plug and any excess oil I could find inside the sparkplug tube. I replaced everything making sure the coil was aligned, but I did notice the coil would shift side to side after is was tight.
This is a picture of the cylinder #6 plug tube before I cleaned it.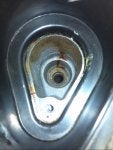 Im pretty sure the issue is coming from a leaking valve cover gasket, and if so, could you let me know what all I will need to change it. (ex. valve cover gasket, silicone, new spark plug, ignition coil, dielectric grease, anti-seize intake gasket.) this is my only vehicle so I need to make sure and get everything I need in the first trip.
I started it and let it run for a few minutes. At first it was back to a smooth idle but the miss returned within a couple minutes. I did not have any dielectric grease to put inside the boot before re-installing the coil, which may be why the miss came back so fast. any help would be great.