2005 chevy trailblazer_ls
Alright, So before I get started. I have a state permit allowing me to run amber and clear lights. I also am in the police academy, which I do not use these lights to impersonate an officer. I have stopped on the side of the road countless times and have helped others out, along with traffic control after severe storms causing accidents and downed power lines. I also have my own landscape company and I use these lights while being parked.. even inside neighborhoods. I have nearly had 3 cars almost drive straight up my trailer. Not to mention almost hitting my truck head on. So I have two stobesnmore E4 super LED light heads in the rear window, they put out a lot of light, even through the tinted windows. Up front I installed two E6 super LED light heads behind the grille. I am still thinking about adding two of the E4 LEDs in the grille and cross wiring them. They all have 21 different patterns. The rear lights are connected to each other so they are all in sync, same for the lights behind the grille.
here are some pictures of the lights installed.
Rear E4 LED install
Rear LEDs
Rear LEDs again
Front LEDs at night
And now time for some video:
http://www.youtube.com/watch?v=SkKeAWZtRDU
The two little wimpy looking lights between the LEDs were strobe lights that I bought and hooked up to a power inverter.. And I thought those were bright at the time!haha
http://www.youtube.com/watch?v=b4icQsPbt0c
Here is just a quick preview of what I carry in the Trailblazer when going out after storms, or going storm chasing. The container always stays in the vehicle, along with a 12v air compressor, and battery jump box, which also has two 12v outlets on it.
Look close enough you can see the LEDs in the back window.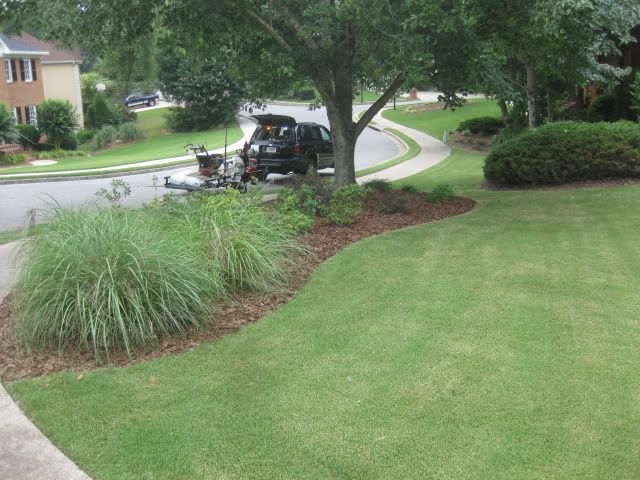 You can see the amber going on one side.. was in the middle of a pattern change.
Last but not least one of my best chases. April 10,2009 Tornado warnings issued, multiple cells. I managed to get this picture as I was getting off of the highway headed home, things were just getting too unstable out there and it was all headed towards my house. That whole area of clouds was rotating rapidly. I had already punched through one hail core that day, which that storm and this storm both produced tornadoes soon after the picture was taken.
I'll do some more updating when I get the chance to.
Let me know what you think so far. I'll also take a video of the interior and upload it.