2004 chevy trailblazer_ls
Discussion Starter
•
#1
•
:yes:
I recently bought a 2004 Trailblazer LS (straight 6) for a winter vehicle.
It's nothing fancy: dents, dings, etc.
113 k miles, no major issues.
I have a set of rims/tires that I am in love with that are not fitting!
I'll be the first to admit I didn't do enough research prior to trying to fit these badboys on the vehicle, but its too late and I am hoping to get advice on the options to potentially still make this work (if possible!)
2004 Trailblazer LS
Stock Rims/Tires: 16" 6x5" on 245 / 70r16
Rims/Tires I am trying to fit: 20" 6x5.5" Torq Thrust on 265 / 60r20
I added 1.5" wheel spacer/adapters to allow the 6x5.5" rims to bolt to 6x5" trailblazer: this worked fine with minor modifications (shaved 1/8" studs off)
We already identified that we need to cut a "piece of pie" shape out of the side of the fender by the wheel well (no biggie, tact weld and spray a 3" rhino line around and to the bottom runner also). This is just a cheap winter vehicle so I'm not being too picky.
Butttttttttttt then we also found out that they cannot turn all the way to the left/right because they are hitting the corner of the body where your feet rest.
This is a HUGE PROBLEM!
:duh::weird::bonk::hopeless
Is it even possible to cut/modify the corners of the body?
I am in LOVE with these wheels, and was wondering if a lift would give me enough clearance?
Body or suspension? I don't want to spend an arm and a leg on this, but was to keep these wheels.
Can anyone offer advice?
THANKS!!!
-Heather
(please see images below)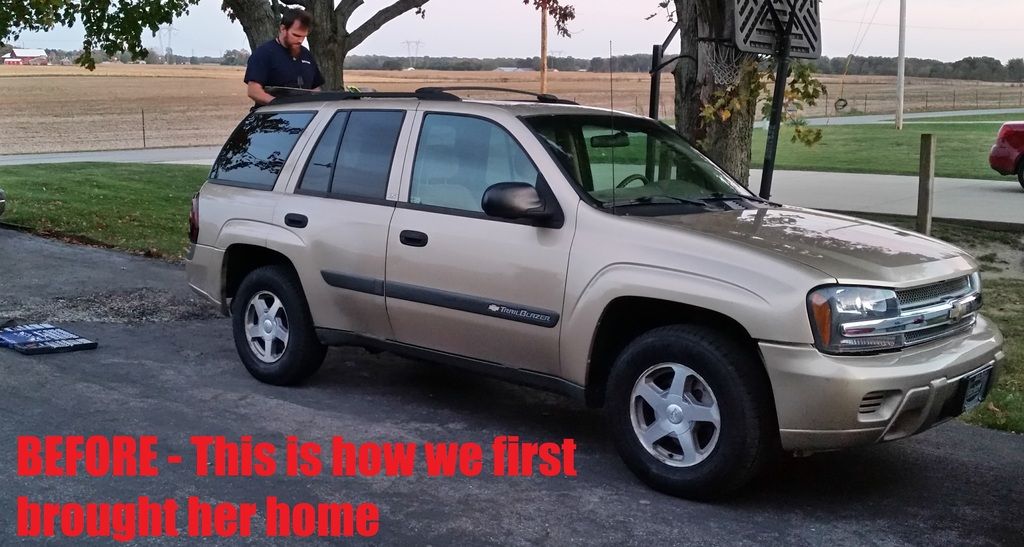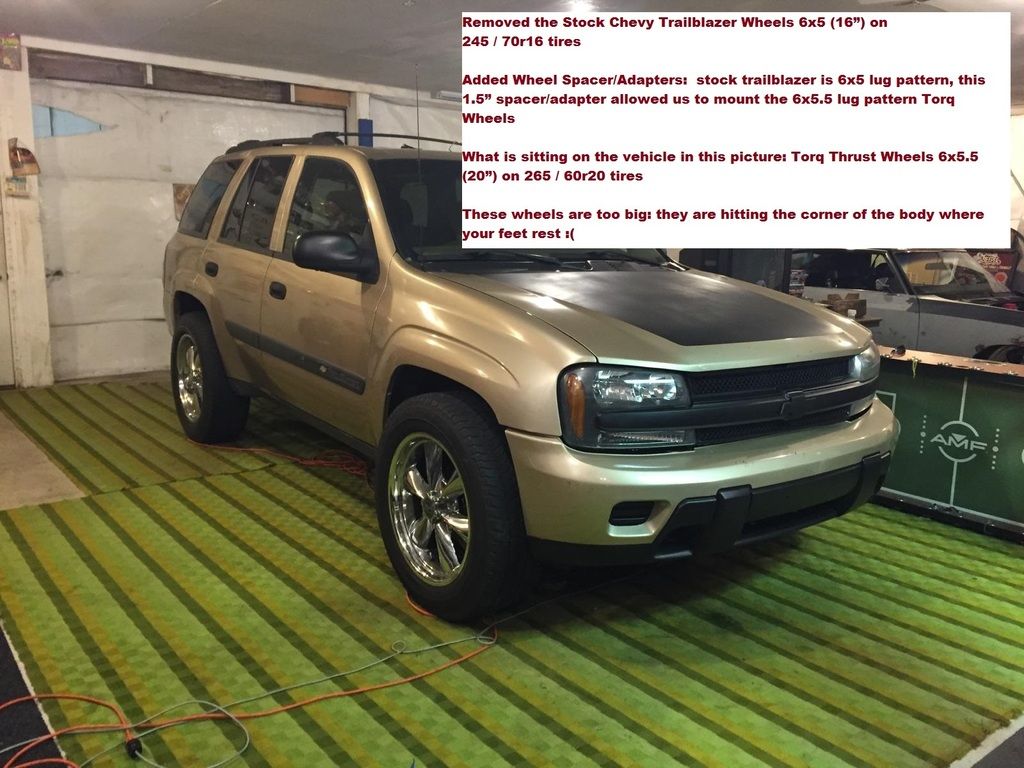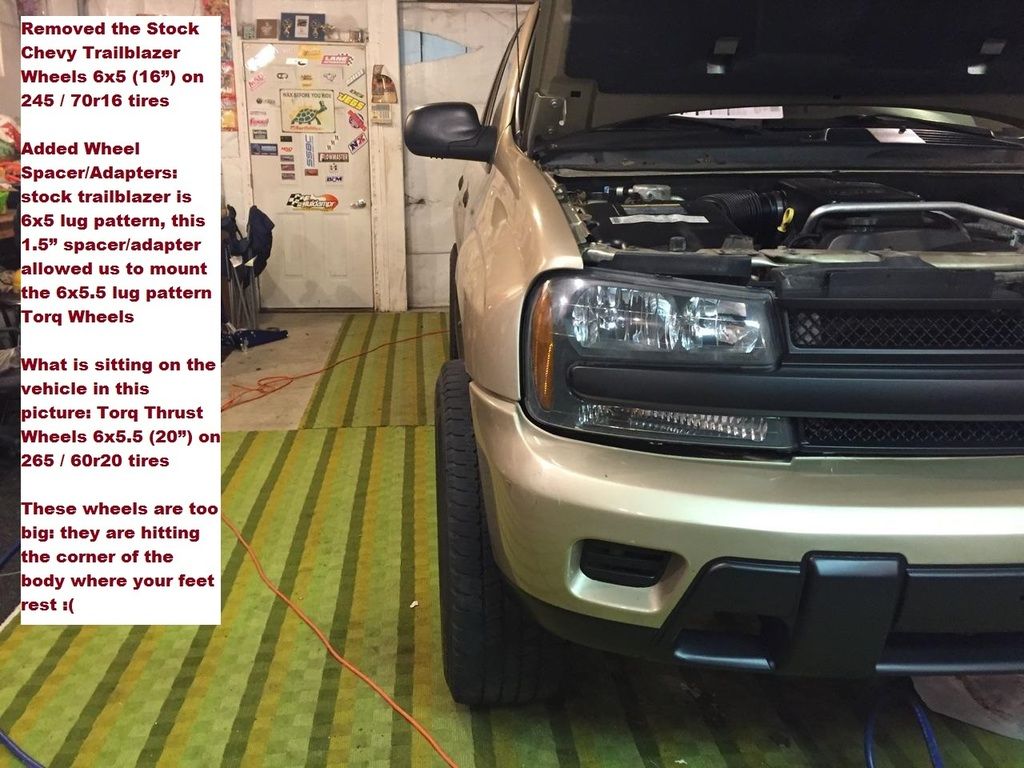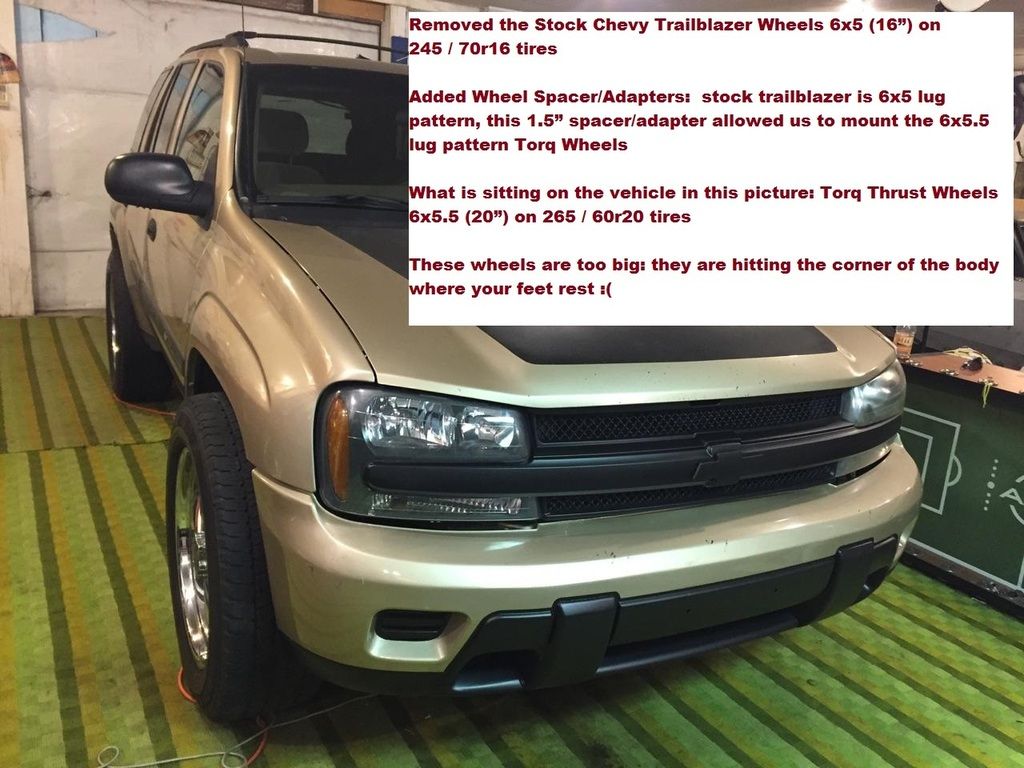 The wheel spacer/adapters I have on it are from:
http://billetwheeladapters.com/wheel-adapters/6-lug-wheel-adapters-wheel-spacers/6x127-wheel-adapters-wheel-spacer-wheel-adapter/6x5-to-6x5-5-wheel-adapters-wheel-adapter-wheel-adaptor/set-of-4-6-lug-wheel-adapters-6x5-and-6x135-to-6x5-5-1-25-thick.html
I really appreciate any advice that anyone has...
THANK YOU!!!
:thx