2003 chevy trailblazer_lt
Well to start my day off I went to the Dealer to have my recall taken care of for my tail lights, they ended up replacing the circuit board on both side and the turn signal module. I also had them do a oil change which was on sale for $29.95.
I got my new cluster in the mail today
. Heres the Pics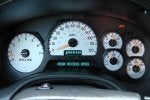 Just Washed
I will update tomorrow when I get the steering will installed.