2006 chevy trailblazer_ls_ext
So this past weekend I set out to make a custom intake after much thought and planning I came up with the least intrusive
and least expensive option. So then I headed to Lowe's to purchase the parts. (Parts List Below)
I have a MAF so I decided it would be smart to not mess with the honeycomb that produces the linear flow for the accurate
MAF readings. So I decided to just take out the resonator box and the baffled curve intake tube for now with a K&N and a
plate over the small resonator as Part 2.
I know there are some who say that you gain nothing from doing this but the sound was well worth it as is the nice looking
engine bay soon to have more painted covers to match as I need to finish the whole thing.
Parts List:
Primer - Automotive Grey Primer - $5
Paint - Duplicolor Metalcast - $9
Couplers - ABS 3" No-Hub - $8 (for two)
Pipe - 3" SCH40 Electrical Conduit 90 - $9
Hose - 1/2" I.D. Utility Hose - $3
Fitting - 1/2" Barb x 3/4" F.I.P. Fitting - $4
Total Cost - $38
Tools List:
Socket - 8mm & 10mm
Flathead Screwdriver (Helps With Couplers)
Saw (I Used My Saws-All)
Utility Knife (To Cut Rubber Intake Hose)
Steps I Took:
1) Remove Resonator From Top Of Engine (
Clean TB Thread
)
2) Cut Ribbed Intake Tube At MAF
3) Cut Conduit To Length
4) Test Fit W/ Couplers
5) Mark Spot To Drill For Breather
6) Take Out, Drill 3/4" Hole For Breather And Insert Breather Fitting
7) Prime And Paint To Desired Finish
8) Re-Assemble Intake On Engine
9) Cut Breather Hose To Length
10) Attach Breather Hose
11) Check Over For Errors
12) Start Her Up & Enjoy!
Stock Intake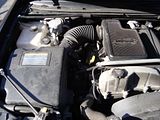 Where I Cut Old Intake (Used Utility Knife)
Holding In Place After I Cut It
Close-up Next To MAF
No Intake
From Front
From Side
Final Product
Front
Side(s)
It went in great and have driven around for three days in 90-95 degree heat (NY) and haven't gotten codes or seen any other
problems. I have run it hard and hot and popped the hood to make sure everything is solid and it has been. I will get MPG
numbers on my next fill-up (1/2 tank now) which should also give it time to work itself in to the engine. I am not expecting
any numbers yet though... need the air filter to get here and clean up that side of the MAF... as I said before, Part 2.
It was a straight forward project and I look forward to questions and comments... even some criticism
(I know I messed up the paint :bonk: )
-GunnerNY