A Step-by-Step Viper 5901 Remote Starter & Alarm Installation Guide (Now with Pics!)
Initial disclaimer: I am not a master installer, but a mere plebe looking to save money. While I've installed car audio components in the past, I had zero knowledge of remote starter systems before attempting this install. Everything I've learned was from lots and lots of Google searches, reading manuals, and PM'ing Trailvoy members (thanks MAY03LT and Green monster!). That said, please use this guide at your own risk. It's not that complicated, but if you aren't careful you can cripple your beloved Trailblazer/Envoy/Rainier/9-7x/Bravada/Ascender, etc. I will also be adding/modifying sections of this article in the coming days as more things come to mind (I did the whole install then wrote this up afterwards).
Second Disclaimer: This was installed on a 2005 Buick Rainier with OnStar, Bose, DIC, heated seats & mirrors, etc. I don't know how other wiring harnesses are different. Please take the time to familiarize yourself with your own system.
For all of you that wanted the color Viper 5902 ($375), you should know that the internals are the same. Two different Viper reps confirmed that the only difference was the remote. Therefore, my plan is to install the 5901, then buy a 5902 remote (p/n 7941V) when they become cheaper and more readily available.
Here is a list of the parts I used (links are for information, not best prices – prices in parenthesis are what I paid after some research):
-
Viper 5901
($189)
-
GM Interface Module
(DLPKGM $45)
-
506T Glass-break sensor
($10)
-
507M Tilt sensor
($25)
-
520T Backup battery
($10)
-2x
513T Mini piezo sirens
($15/ea)
-
998T Bitwriter
($80 and completely optional - it just makes programming easier…version 2.6 is required)
-
Heineken Beer Dispenser
($129 and totally necessary!)
Tools:
-soldering gun w/ rosin core solder (preferably a 110V gun type – they are far superior). I got the
Weller D550 200/260 watt
.
-7mm & 10mm sockets w/ ratchet and extension
-Flashlight
-mini razor knife
-digital multimeter (and knowledge of its use)
-screwdrivers & pliers (needle-nose and regular)
-spools of heavy gauge wire (12ga) and, if going to rear brake light (you'll read why later), regular wire (18ga)
-4-pin Bosch style relay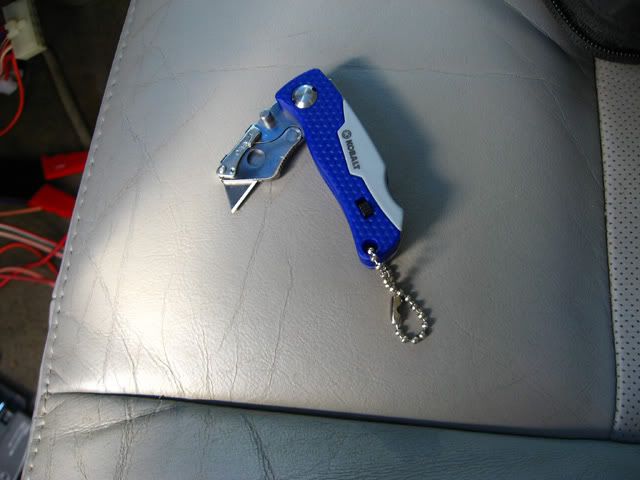 Time:
If it's your first install – a lot. Give yourself a full day b/c from the time you cut the starter wire at the ignition harness until the time you finish, your car will not start... and likely you'll realize you need something from the parts store in the middle of the install
Now, the overall picture – The DLPKGM (or XK01, etc) acts as the go-between, handling commands between the Viper unit and your car. There are two ways to connect the Viper unit and the DLPKGM: a 4-wire serial connector that handles almost all inter-unit communications ("D2D") or hardwiring each connection ("W2W"). The benefit of D2D is that from the DLPKGM, you only have to connect two wires to your car and two to the Viper. W2W requires 10 (same 2 to the car, and 8 to the Viper). As you can see, the D2D cable takes the place of 6 wires. The drawback is that problems are harder to diagnose b/c most commands travel over the same wires. Also, a Viper installer I met explained that DEI just sent them a new batch of D2D wires. Apparently they switched the order of the wires in the cable. I'll post the correct order next time I go work on it.
Installation Manuals – READ THESE BEFORE INSTALLING!
-Viper 5901
-DLPKGM (also supplemental Trailvoy doc)
Alternatively, you can use the cheaper XK01 ($15). Both modules are made by Xpresskit (a brand of DEI), the DLPKGM is just a more feature-rich model. The main benefits to the DLPKGM are that it auto-programs itself and it automatically turns on the heated seats, rear defog, etc when the outside temp is <32*F. The manual for the XK01 is here. (They also make a CANMAX400 for newer CAN models, which goes for around $100)
-Extra accessory manuals come with the part.
Step 1 – Read the manuals.
Read the manuals. Read the manuals. They are written for experienced installers, so make sure you have a basic understanding of what it's saying.
Step 2 – Familiarize yourself.
Spread everything out and familiarize yourself with the playing field. Also, I marked the smaller white connectors with a black felt-tipped marker so as to keep track of what they went to.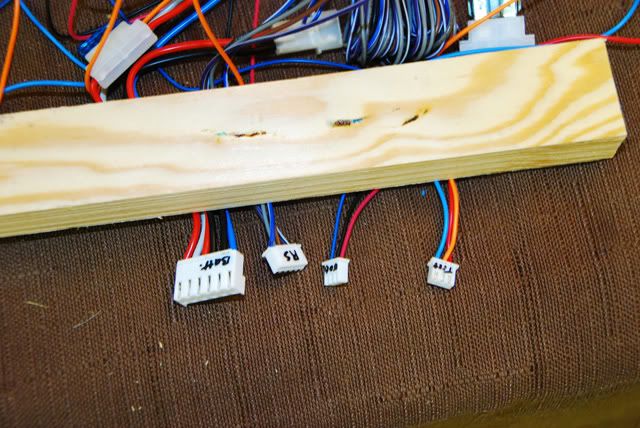 Step 3 – Set parking light polarity.
Open the top access panel on the main Viper control unit and insert the red fuse into the middle and rear connectors for a negative-polarity signal to the parking lights.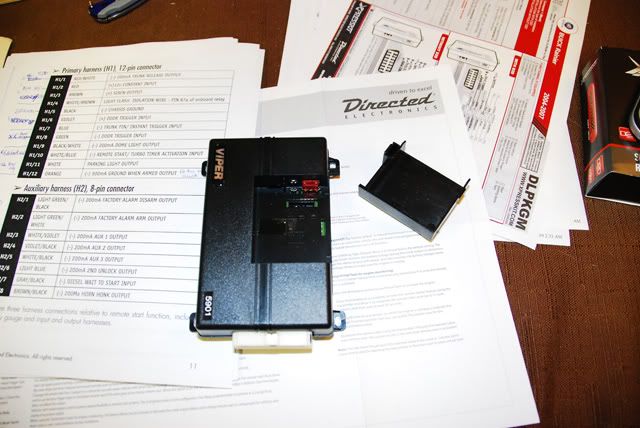 Step 4 – Change jumpers
. *D2D = Horizontal. W2W = Vertical.* Check the two jumpers on the back of the Viper and rotate them 90 degrees if need be (see p.31 of Viper install manual for more info).
Step 5 – Wiring.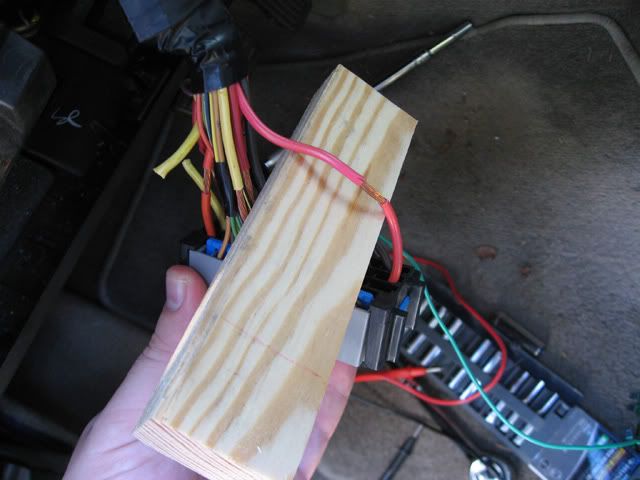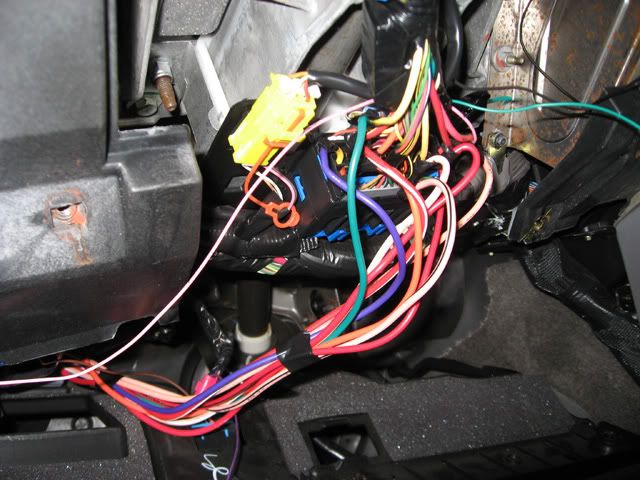 Solder the initial connections between the Viper control unit ("Viper"), the DLPKGM ("Module"), and the additional sensors (hereafter noted by their part number). The Viper has 6 harnesses – H1, H2, H3, R/S IN, R/S OUT (R/S = remote start), & Door Lock. I soldered all ground wires to a common 12ga wire that I grounded behind a washer against the steering column ("common ground"). I also soldered all 12V Constant inputs to one of two places, 12V Const. from 520T Battery Output gray wire ("12V Batt") or 12V Const. from the Ignition Harness (red "B5" wire)
For my setup, the wiring is below. N/A means the wire was taped off and not used. If it seems an important feature has a "N/A" next to it, it's b/c the bypass module likely is already controlling that.
• Viper connections
PRIMARY HARNESS
o H1/1 Red/Wh (-) Trunk Release Out N/A
o H1/2 Red (+) 12V Constant In to 12V Batt
o H1/3 Brown (+) Siren Out to red of sirens (3x - main & two piezos)
o H1/4 White/Br Light Flash Iso N/A
o H1/5 Black (-) Ground to common ground
o H1/6 Violet (+) Door Trigger N/A
o H1/7 Blue (-) Instant Trigger to Blue @ 507M and 520T
o H1/8 Green (-) Door Trigger Input to Bypass Module
o H1/9 Black/White (-) Dome Light Out N/A
o H1/10 White/Blue (-) Remote Start N/A
o H1/11 White Parking Light Out N/A
o H1/12 Orange (-) Ground-When-Armed (GWA) Output to 507M Orange GWA​
AUX HARNESS
o H2/1 Lt. Green/Blk (-) Factory Disarm Out N/A
o H2/2 Lt. Green/Wh (-) Factory Arm Out N/A
o H2/3 White/Vio Aux 1 Out
o H2/4 Violet/Blk Aux 2 Out
o H2/5 White/Blk Aux 3 Out
o H2/6 Lt. Blue 2nd Unlock Out
o H2/7 Gray/Blk Wait-to-Start (diesel only) N/A
o H2/8 Brown/Blk Factory Horn Out (Optional) to Ignition Harness ("IGN") D4 (horn relay control)​
Heavy-Duty Harness – Letter/number designations refer to GM's pin numbering system on the steering column ignition harness (see diagrams in 3rd post). You unplug it by unscrewing the 7mm hex-head bolt. As the bolt comes out, it pulls out the plug so go slowly and wiggle it with your hand. Also, the only wire you completely sever at IGN is C1 Yellow "Crank Voltage" starter wire.
It's important to solder these connections (and preferable to solder all connections) as they carry a lot of current. T-taps, crimp connectors, and the "twist-n-tape" method won't cut it here.
Here is the proper way to prep the factory wire for soldering. Use the mini razor knife to cut a ring around a wire, then do the same 3/4" down the wire. Slice up between the two rings and then peel away 3/4" of insulation.
It doesn't take much pressure to cut the insulation.
Don't mess them up, you only have 1 ignition harness
o H3/1 Pink (+) Ignition 1 Out & Ign 1 input sense to IGN C6 (Pink) AND DKPLGM Pink
o H3/2 Red/Wh (+) Ignition 2 to IGN D2 Red/Wh
o H3/3 Orange (+) Accessory to IGN D1 Orange
o H3/4 Violet (+) Starter Out to IGN Yellow C1 (harness side of cut wire)
o H3/5 Green (+) Starter In to IGN Yellow C1 (key side of cut wire)
o H3/6 Red (+) Ignition 1 In to IGN B5 Red (12V constant)
o H3/7 Pink/Wh (+) Ignition 2 Out to IGN C5 Pink/Wh
o H3/8 Pink/Blk (+) Flex Relay In N/A
o H3/9 Red/Blk (+) Accessory In to IGN B5 Red
o H3/10 N/C
o Additional Relay needed for ACC 2. Splice into the following:​
* Pin 85 – Orange ACC wire (H3/3)
* Pin 86 – Common ground
* Pin 87 – IGN B6 Brown (Accessory 2)
* Pin 30 – 12V constant (I used IGN B5 Red)​
Continued in next post.