2002 chevy trailblazer_ltz
Discussion Starter
·
#1
·
Let me know what you think. Add anything? Questions?
Disclaimer: This is by no means an exact how to guide. This is how "I" did it. Your open to do things my way or your own. This job was done on my 2002 TB. Im unaware if there are differences between the years or models of 360s.
Ok…. So you want a how too for the ball joints and sway bar end links you say… maybe you didn't say it…..either way… here it is.
I just replaced my Upper and Lower Ball Joints, along with front and rear Sway Bar End Links. They were worn out looking and were making horrible clunking sounds. I had put 20K more miles on these parts and figured it was about time.
I replaced my parts with all Moog brand parts.
This is the "parts list" and my cost at O'Reilly Auto Parts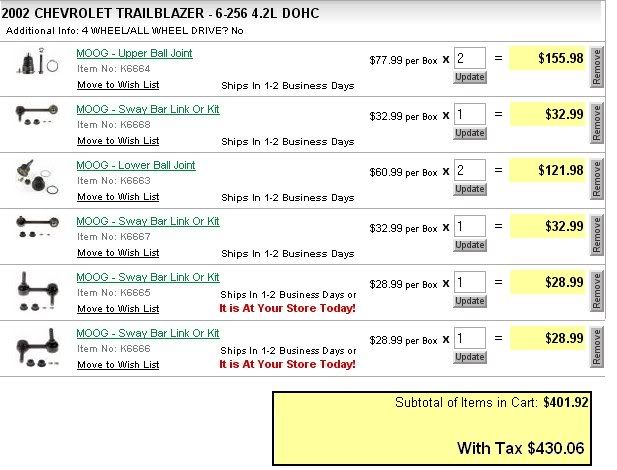 I also picked up one of the ball bearing clamp tools. O'Reillys could not seem to locate theirs so I ended up at Advance. It was around 160 bucks, totally refundable so…. FREE!!! Based on what I saw online, the set at O'Reillys seemed very small and limited. I ended up with a 23 piece set and that was a very good thing. Cant recommend any particular tools in the case to use. Just kinda trial and error to figure out whats going to get your ball joints out.
http://img.photobucket.com/albums/v633/offspringin/Clamp.jpg
My first thing was rolling the truck up on some ramps. This kept the truck more stable. I then broke the lugs loose on the right side, this was the side I started on. Next I jacked it up by the A-Arm. I did this so it could be lowered and raised easier if need be. You may can skip this step but it did hold everything tight.
So now your wheel is off. The upper is easy to unbolt. There is a long horizontal bolt there, both nut and bolt is 15mm.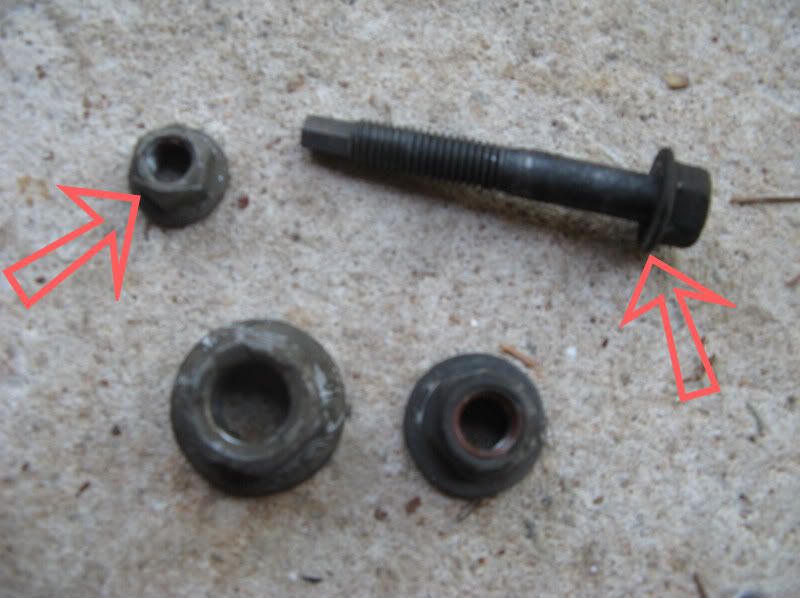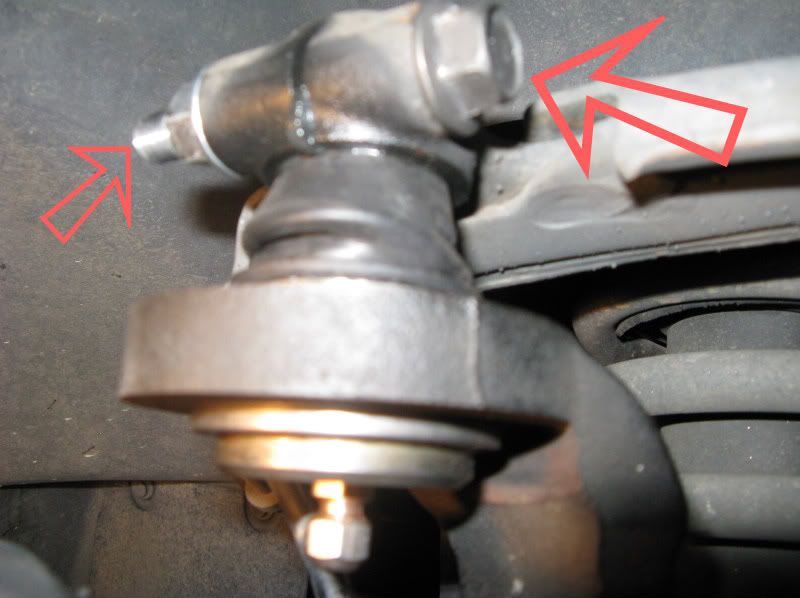 After this bolt is out its possible the entire assembly will just kinda fall down (not all the way because the lower is still connected) At this point you are able to angle it out enough to work on it just fine with the clamp clearing the fender with a couple of inches.
This ball joint needs to be pressed down back through the arm. There is a clip on the topside. Mine was buried in dirt but it was under there. Clean that off, get the clip off using flat screw driver and needle nose pliers and now your ready for the clamp.
Figure out what tools you will need to push it down. Tried just smacking it with a small sledge but it didn't want to budge. The clamp does a great job though. I recommend a long breaker bar or huge socket wrench to use on the clamp to get some good leverage on it.
So now lets hope you got your ball joint out. What comes next may vary from part to part. The Moog parts came with new bolt/nut, grease fittings, lock clip, and the ball joint itself. These were marked on the rubber boots which way it needs to face, in this case it told me to face it in. Again you choose the tools you need to press it up and back into the arm. This proved to be hard but very possible. MAKE SURE YOUR PUSHING IT IN STRAIGHT. I HAD TO BACK OFF AND RE-SITUATE A FEW TIMES. Once its pressed in. Put the clip on it, thread the grease fitting on it and set your nut/bolt to the side.
Note: Originally I reassembled the upper and tried to take apart the lower, this became a little bit of a hassle so it was decided that the upper should be disconnected.
Before starting on the lower ball joint. I recommend unclipping the ABS wire, and unbolting the bracket that holds the brake line (there are 2 small 10mm bolts facing in on the back side of the arm). When you take the brake line bracket off you now have a little hole which you can run some wire and use to support the arm as you take off the lower ball joint. I wired mine to something up in the wheel well. I don't recall exactly what, you just want to keep it from falling to the ground pulling the cables/hoses with it and damaging your rotor.
Now to start on the lower. This is just 1 huge nut on the bottom, facing the ground. Im not certain the MM size as I used an adjustable wrench for this one. I know that a 15/16inch will work but I'm sure its mm so maybe a 24 or 25mm? Loosen this BUT NOT ALL THE WAY UNTIL YOUR READY. If you take it all the way off with the upper ball joint disconnected the entire assembly will fall. It is not light. This is really a job for 2 people. When you are ready to drop it one person should hold the brake/caliper/arm assembly while someone else finishes removing the nut.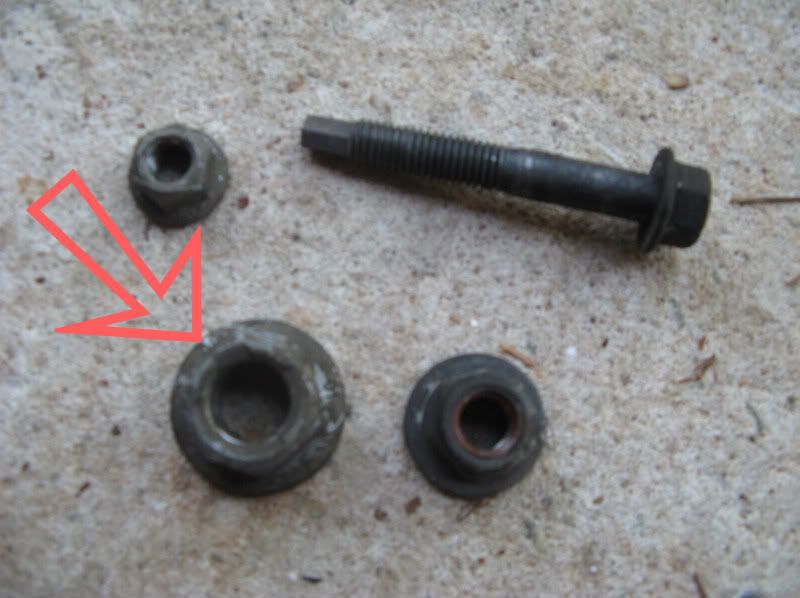 This is an after shot (there is no cotter pin in the stock ones)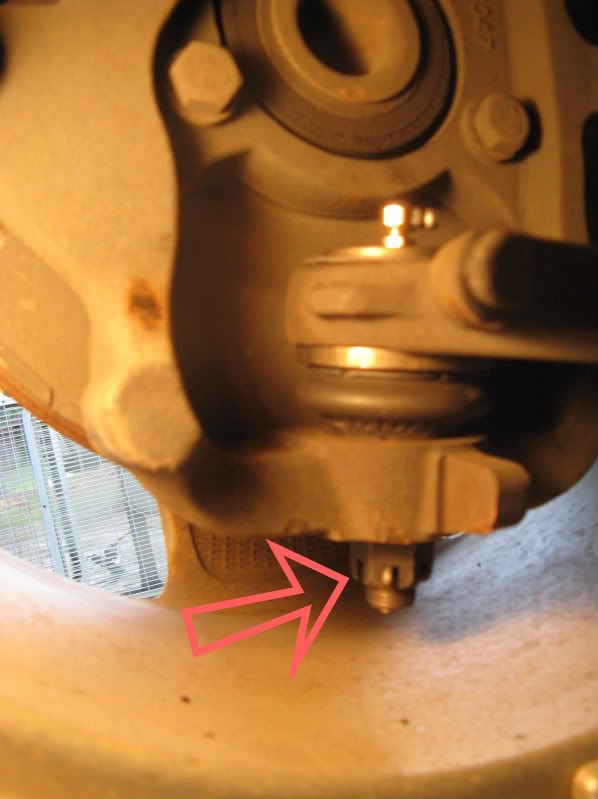 You may need to tighten your wire a little but you can also kinda get the whole assembly to just chill in the back half of the wheel well. You will not need to touch it until your ready to reassemble.
Now to get the lower ball joint out. Its pressed up from the bottom then they press the edges to hold it in place. I used a hammer and iron bar to smash these little tabs back in.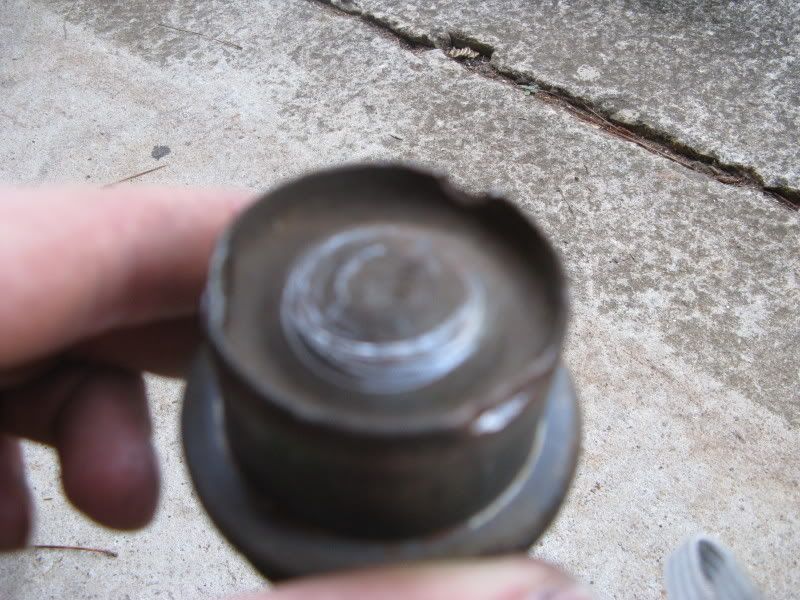 Once these are pressed in your ready for your clamp, again just find the set up that works to push it down and out.
Once its out your ready to put your new one in. My new one came with again a grease fitting, new nut, cotter pin, lock clip, and the ball joint itself. I pressed it UP into the arm and put the lock clip on. Then my grease fitting. Again it will help to have 2 people to remount the assembly. Undo the wire if you chose to use it, have them put it back up onto the bolt of the ball joint and screw the nut on the bottom. In my case I had to line up the bolt hole with the grooves in the nut for the cotter pin. Once that is nice and tight your free to re connect your upper ball joint with the bolt and nut you put to the side earlier. Just slide it up in there, and run the bolt in, tighten and your good to go.
I then greased all my new fittings. Use your judgement on how much.
Repeat in the same way on the other side
SWAY BAR END LINKS
You by no means have to replace these at the same time. But if your going to do them on the front then is an ideal time. These were just quick swap outs. Unbolt using a #6 allen in the end of the bolt , and an 18mm open ended wrench. My new ones bolted on using an 18mm open ended on the ball side, and an 18mm socket on the nut side. Again mine came with grease fittings so I greased them up, threw the tire back on and done with the front right.
The rear end links are about the same, they are kind of a pain to get too, the drivers side was the worst because of the gas tank.
Over all I would say this entire job took about 4 hours. 3 for the front end work, and about an hour for the rear sway bar end link replacements.
Before and After Pictures
These are the 2 Ball Joints, the left is the upper, and right lower
Upper Ball Joint Before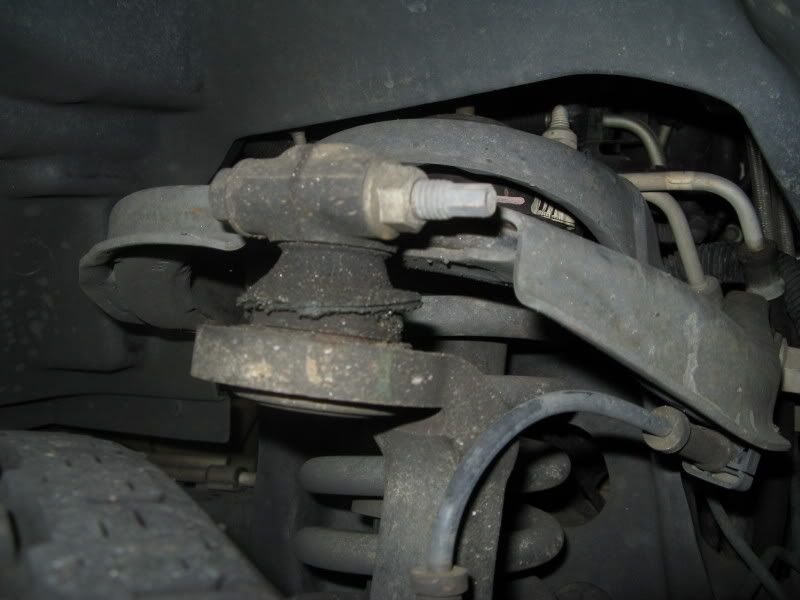 Upper Ball Joint After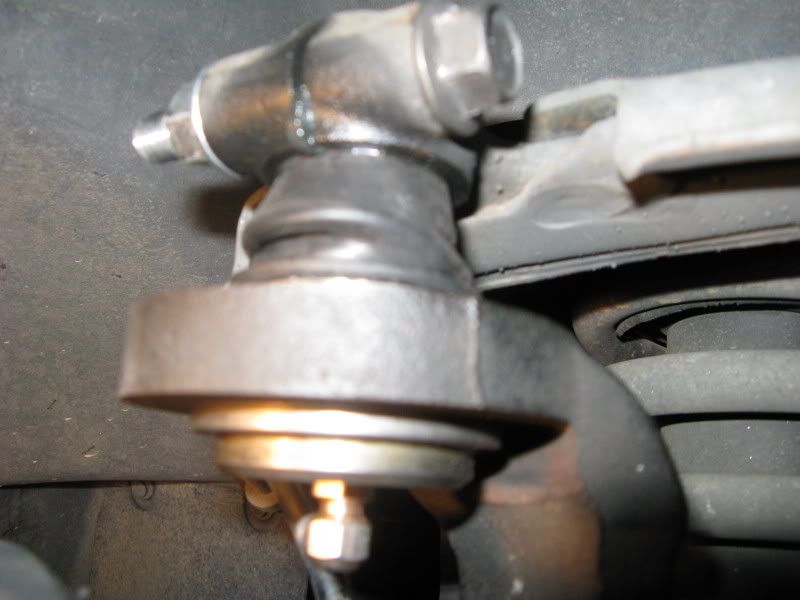 Front Sway Bar End Link Before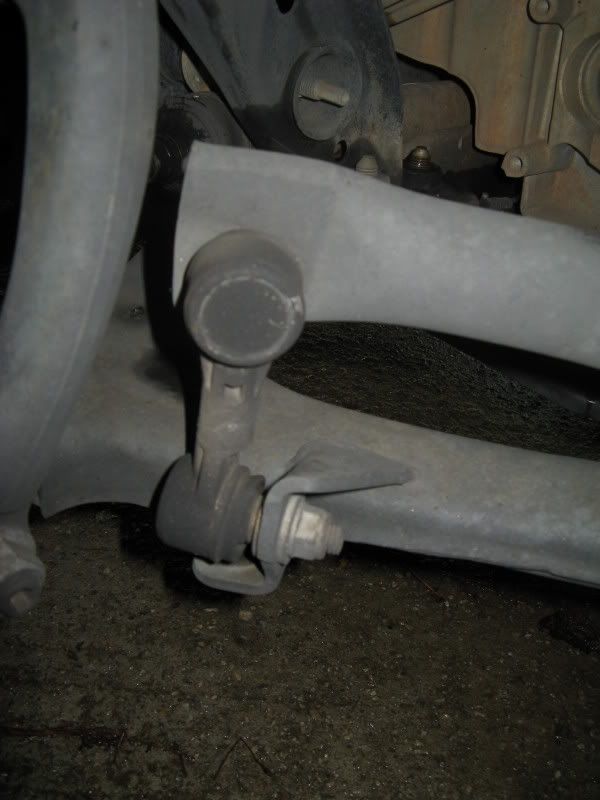 Front Sway Bar End Link After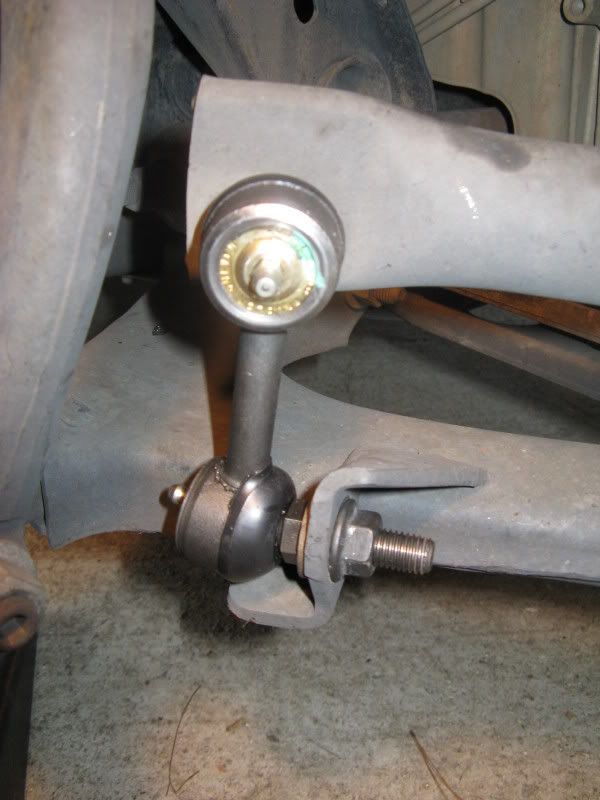 Rear Sway Bar End Link Before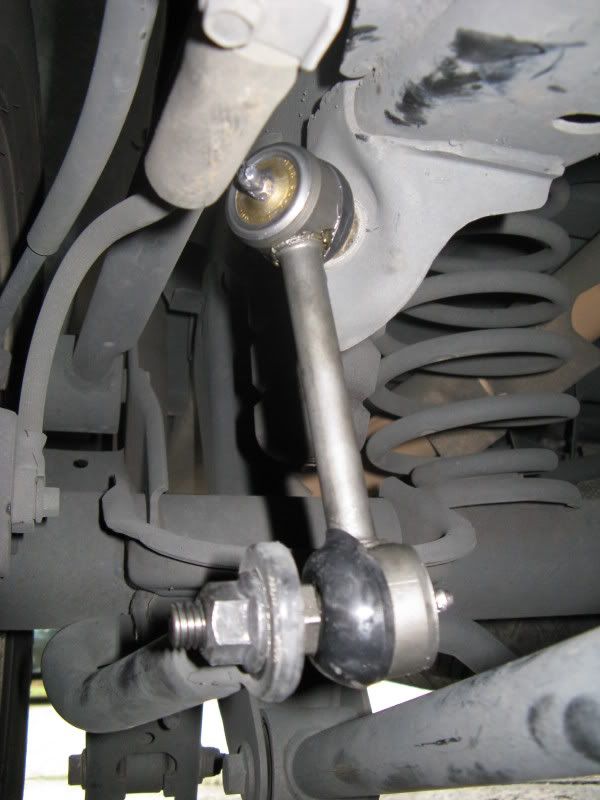 Rear Sway Bar End Link After